Minecraft best shaders of 2020
If you have played Minecraft for at least a half year, then you are probably familiar with shaders. They allow you to gain realism in the game and make the Minecraft world much more attractive than it is used to be. saving the main concept of the game. In this blog, I will list out the top 10 shader packs that I personally have tried. Sun rays, waving leaves, amazing water animation creates a fantastic atmosphere that would intoxicate any player of Minecraft.
Here is the list of shader packs, that I am going to introduce:
Seus
Chocapic13's
Sildur's Vibrant
Paolo's Lagless
Seus Renewed
Wisdom
Continuum
CYBOX
KUDA
Voyager
1. Seus
SEUS is well known and probably the most popular shader pack among Minecraft players! It offers you high-quality animations and incredible rendering. It has 3 types of different packs, which you can choose according to your system and preference. The most stable release is V10.2 since it can be played on even weak PCs. One key feature of SEUS shaders is that it supports texture packs with bump mapping( rough surface texture ), which also contributes to the realism in the game.
2.Chocapic's shaders
Chocapic's is another nice looking, attractive and modern shader pack, which is famous for its sun rays and extraordinarily beautiful sky( especially at night )! Looking at the stars and clouds, It is hardly ever to distinguish the game from reality.
3. Sildur's Vibrant
Sildur's Vibrant is the perfect choice if you are on weak pc. It does not require much memory and compatible with most video cards. It adds lovely brightness making the game even more charming. This shader pack is also famous for its beautiful skies, though, they are not that much realistic as Chocapic's shader packs. However, you will definitely fall in love with Sildur's Vibrant once you try it!
4.SEUS Renewed
Although I have already introduced you SEUS shaders, I would like to emphasize this package separately. It is totally another world from the standard SEUS shaders, having many more enhancements in different environments of Minecraft, over 16 improvements to the graphical part. For example, when you under the water, or when it is raining, you will feel the difference between this package and the others. I highly recommend you to run this shaders on powerful PC!
5.KUDA
Shader pack came up with cool graphical elements like volumetric fog that feels extremely realistic, as well as great-looking default textures without additional memory requiring, unwanted effects. KUDA Shaders keeps the clear balance of the things which give more beauty to the Minecraft world!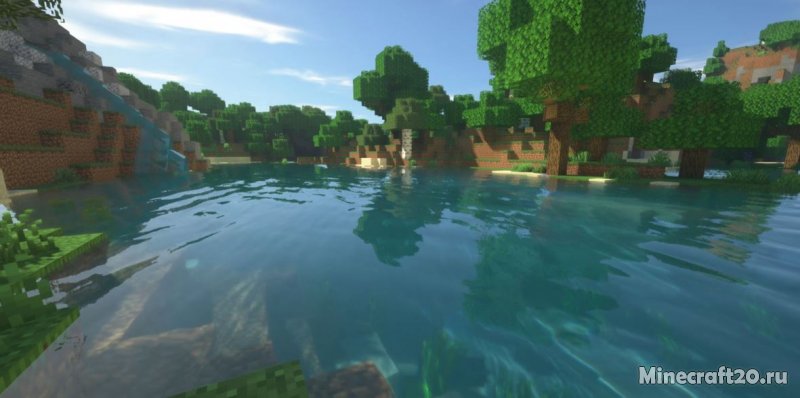 6.Continuum
Continuum is another fascinating shader pack, which unlike other shaders creates extremely realistic sun rays and includes volumetric Lighting, PBR, SSR. It is highly compatible with any resource pack and different versions of optifine. Shader pack offers very high-quality graphics and bump map support! Although Continuum shader pack requires slightly a bit more powerful PC, it worths to be played.
More information you can find in the official website: Continuum.graphics
7.CYBOX
I have tried this shader pack two years ago and still, this pack is in my list of best shaders. It brings nice looking fog effects, sun rays, and amazing lighting to the game! Also, I have to mention that this shader pack is highly optimized, therefore you can run it almost in any pc!
8.Wisdom
There is only one word for this pack - extraordinary! Wisdom shaders are one of the most realistic shader packs of today, which outstands for its amazing, gorgeous water animation, weather effects, lighting and much more...
You must have to try this pack, and once you do that, it's unlikely that you would prefer to get back your vanilla Minecraft shaders.
9.Voyager
This is the relatively new shader pack which despite its age, already gained the popularity of players. It also adds all the necessary effects such as sun rays, shadows, waving grass, clouds, etc. But the most eye-catching aspect of the pack is the highly developed fog graphics.
10.Paolo's Lagless
I am pretty sure you are familiar with this pack since it has been in the market for several years already. From the title, you may guess what it offers. Definitely, this pack allows you to enjoy the shaders in weak PCs. However, the term 'lagless' doesn't necessarily mean that the effects will also be weak.
Thank you for your vote!